.
Wilbert Coffin: The Song and Story
"
A song on the Coffin case deserved to be written,"…"It's a part of Gaspé history. Perhaps it can play some small role in the efforts to revisit the case and clear his name
" – Dale Boyle (quoted in the Hour magazine)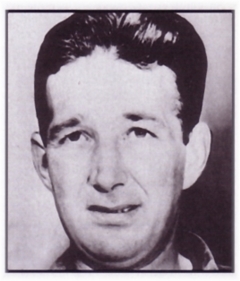 Brief Overview:
In 1953, three Americans were murdered while bear hunting in the Gaspé region of Quebec, Canada. Wilbert Coffin, a mining prospector, was tried, convicted (for one of the murders) and sentenced to death. In 1956, Wilbert Coffin was hanged in Montreal, Canada. Plagued with controversy and public disapproval, all eyes turned to the Gaspé. The Coffin case gained national attention, with numerous investigators of the case arguing that Coffin, as he proclaimed to his death, was innocent. Although the case played an instrumental role in the abolishment of the death penalty in Canada, Coffin's name has yet to be officially cleared. Wilbert Coffin's final words were, "Into thy hands Lord, I commend my soul".
The Song:
In late 2003, I began writing "The Wilbert Coffin Story". Being a Gaspesian, I grew up hearing stories about the Coffin case, so it is a very natural subject for me to write and sing about.
"Montreal singer-songwriter Dale Boyle grew up in the Gaspé but doesn't remember when he first heard Coffin's story. "It's just always been something I knew about," he said. The case has inspired hundreds of newspaper and magazine articles, five books, a play and an award-winning film over the years, but Boyle recently put it in song" - Charlie McKenzie (The Hour)
"Everyone in the Gaspe has thought about the Coffin case," says Dale Boyle, 33, an award-winning folk-blues artist now living in Montreal, who penned a song about Coffin" – Marian Scott (The Gazette)
The song opens with a personal story that was told to me by my father. My father was about 5 years old when he witnessed Wilbert Coffin in handcuffs being escorted by police into a garage to use the washroom while on route to the courtroom in Perce. The opening lyrics read: "My daddy seen him, with shackles on his hands, He was young but knew who it was, all the talk was of this man".
Before recording the song, Richard Element (co/writer) and I made a trip out to Sherbrooke to meet and chat with Alton Price, author of To Build A Noose, a book which details the case for Coffin's innocence.
The song (then titled Justice Precluded Coffin) was included as the only acoustic track, sort of a bonus track, on the Dale Boyle and the Barburners' electric blues/rock flavoured A Dog Day For The Purists (2004) CD.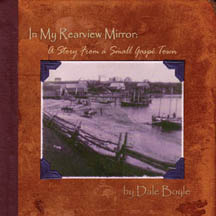 I felt the song needed to be on an album that was more fitting with the folk storytelling genre, so a new version, under the title, The Wilbert Coffin Story, was recorded for my solo acoustic folk roots album, In My Rearview Mirror: A Story From A Small Gaspe Town (2004).
"Dale Boyle soul-searches his roots through a 10-song itinerary that leads from his Gaspé home to the big city and back"…"There's also The Wilbert Coffin Story, where a wrongly accused miner meets the hangman. That's real folk blues" - Dean Cottrill (The Hour)
"Intertwining folk, country and blues traditions into his blue collar, working-class songs, he's written an original tune about the notorious wrongful conviction and execution of Wilbert Coffin in the 1950s" - Barbara Lavoie (The West Island Chronicle)
"In the 50 years since Gaspé prospector Wilbert Coffin was hanged for murder, the case has provided much fodder for debate – largely in Quebec. It has also spawned numerous newspaper articles, magazine features and books, as well as one documentary and a folk song" – Mark Anderson (Outdoor Canada magazine)
I have performed and told "The Wilbert Coffin Story" on a CTV Montreal news special and a CBC ENJEUX documentary film.
Dale
| | |
| --- | --- |
| | < Click for video clips of Dale performing "The Wilbert Coffin Story" on the CBC Enjeux documentary on the Wilbert Coffin case. |
The Wilbert Coffin Story
My daddy seen him, with shackles on his hands
He was young but knew who it was, all the talk was of this man
And the stories grew, and some they knew more than they would say,
Three Yankees shot, down in Gaspe, some poor boy's gonna pay
Just a stoic man, with a few mining claims
When Altoona County cracked the whip, at him was laid the blame
You see, they got their man, but any man could have killed
Cause justice does leave holes that the innocent sometimes fill
And Coffin's lawyer never called on anyone
In his defence, no one took the stand
And the prosecution claimed, "Find the thief, you'll solve this crime"
But have you ever been in the wrong place at the wrong time?
Three years went by, and they sentenced him to hang
He swore "I ain't the one" and his hangman felt the same
With seven unlucky chimes, and a single death flag raised
Wilbert Coffin was sent to an early grave
And then he said . . .
"Into thy hands Lord, I commend my soul"
"Into thy hands Lord, I commend my soul"
"Into thy hands Lord, I commend my soul"
"Lord I, I commend my soul"
L'histoire de Wilbert Coffin
Mon père l'a vu, les menottes aux poignets
Il était jeune, mais il savait qui il était. On ne parlait que de lui
Et l'histoire a grandi, et certains en savaient plus mais ne le disaient pas
Trois Américains morts, tués en Gaspésie, un pauvre garçon va payer.
Un homme stoïque, avec quelques claims miniers
Quand Altoona County a mis de la pression, c'est lui qu'on a blâmé
Voyez-vous, ils ont leur homme, mais tout homme aurait pu tuer
Car la justice laisse parfois des trous que les innocents remplissent
L'avocat de Coffin n'a pas demandé de témoins
Pour sa défense, personne n'est venu déclarer
Et le procureur a dit : « Trouvez le voleur et le crime sera résolu. »
Avez-vous déjà été au mauvais endroit au mauvais moment?
Trois années ont passé, et il va être pendu
Il a juré « Ce n'est pas moi », et le bourreau était d'accord
Le glas a sonné sept fois, et on a levé le drapeau de la mort
Wilbert Coffin est allé au tombeau avant l'heure
Et il a dit . . .
« Entre tes mains, mon Dieu, je remets mon âme. »
« Entre tes mains, mon Dieu, je remets mon âme. »
« Entre tes mains, mon Dieu, je remets mon âme. »
« … mon Dieu, je remets mon âme. »